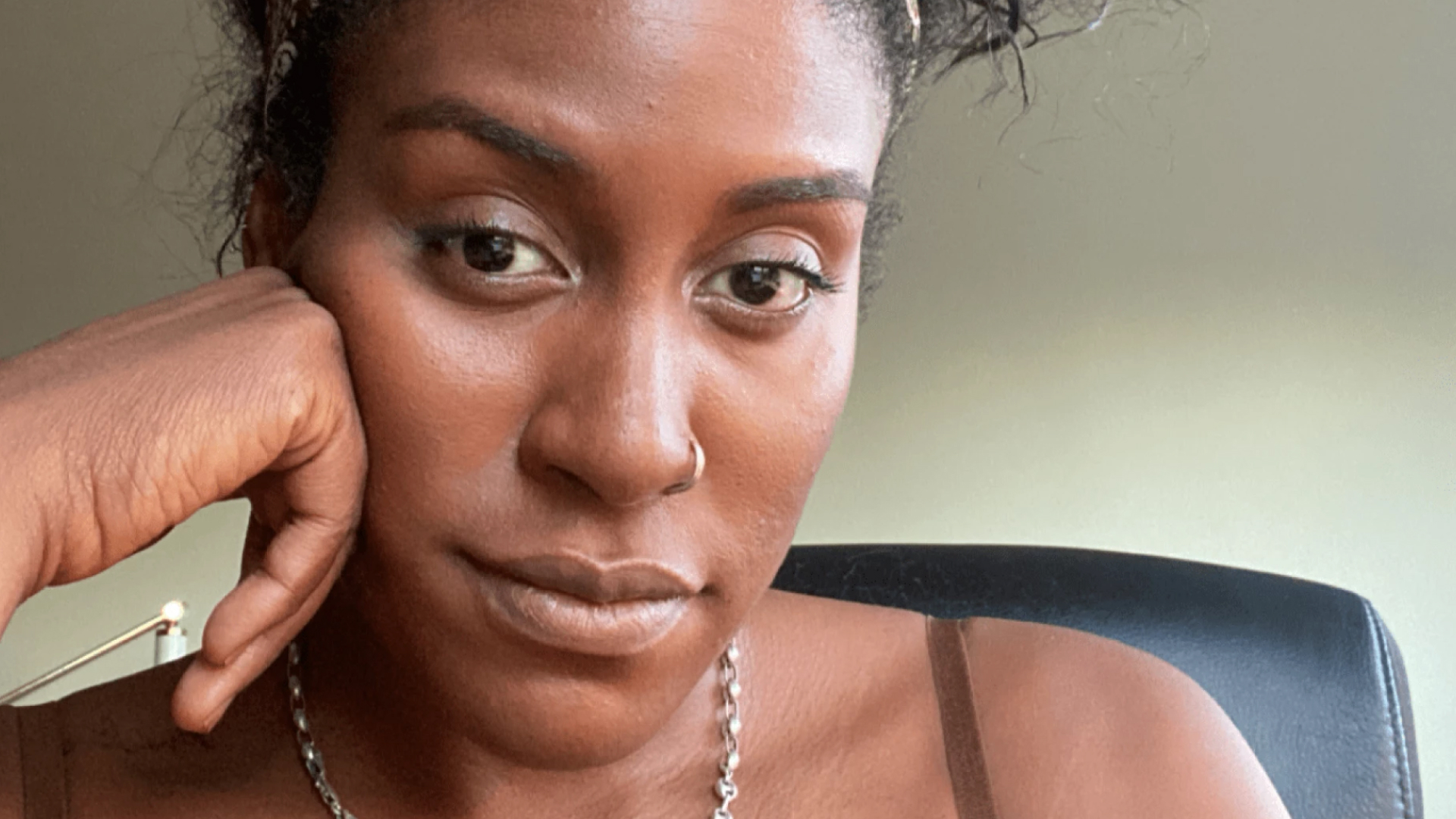 People
Feeld Interviews: Mandy Harris Williams
October 30th, 2023
As part of our interview series One Night Stands, multimedia artist Mandy Harris Williams talks sharing, devotional dominance, trusting your gut, and what's on her nightstand.
Questions of desire and pleasure are everywhere around us, and they are most exciting when we explore them with openness and imagination. In our new interview series, One Night Stands, we put a few playful questions to creatives who we believe are interrogating these questions in the boldest ways – whether through writing, film, art, or other mediums.
Introducing Mandy Harris Williams: a multimedia artist, working in the literary, visual, cinematic, performative, and musical arts, originally hailing from New York City and now living in Los Angeles. She graduated from Harvard, having studied the History of the African diaspora, as well as contemporary Black issues, including the mass incarceration crisis. She received her MA in Urban Education and worked as a classroom teacher for seven years in low-income communities. She has shown work at the Moving Picture Biennial at the Centre d'Art Contemporain Genève, MOCA Geffen Contemporary, and Paula Cooper Gallery, among many others. You can find Mandy on Instagram at IdealBlackFemale. 
My love language is 
Oof…I'm reading myself a bit cynically here, but attention? Also, different people have different performances of affection so I don't know if I can honestly say there's one love language that does it for me. 
Pure pleasure for me is
Laughter, spaciness, freedom from anxiety.
I feel good when I'm wearing
Flared stretchy pants with a unique pattern.
I feel most connected to myself when
When I journal.
My most niche kink is
Light asphyxiation? I don't know – that seems pretty run of the mill!
One thing I've learned about desire is 
It is inordinately bound to politics, and it can be both extremely honest and extremely dishonest. 
I've always wanted to 
If I always wanted to do it, I did it by now.
My best date was
My current partner and I went to Lovers and Friends, which is this R&B music festival. It happened kind of accidentally, because my friend who I was supposed to go with injured themself last minute. It was spontaneous, and adventurous, and romantic. I feel like people underestimate how great a date setting a music festival is. I like extended format dates. We spent the whole day bonding, and dancing close, and singing, and floating around the fairground. I saw Usher perform all of his greatest hits. 
My most memorable one-night stand was 
N/A: if it was memorable for me, it was memorable for them, and they came back around. 
On my nightstand you'll always find
Multiple books.
I always gather inspiration from
My memories of watching MTV in the mid to late '90s or revisiting those shows/videos. 
My ideal/fantasy relationship is 
The current one I'm in, to be honest, but the ideal configuration would be this one, and also one or two other sexy and nurturing cuties in the mix. 
I'm currently listening to/watching/reading
Listening to: the entire CTI records collection, and '00s R&B. Watching: Queen Sugar and Catfish.
Reading: I just stopped reading The Autobiography of Alice B. Toklas, in the middle cos something struck me as anti-Black which sucks, cos I was enjoying it, but honestly this happens to me like one or two times every year. I have been reading a lot of articles. I'm very slowly making my way through "1 (life) ÷ 0 (blackness) = ∞ – ∞ or ∞ / ∞: On Matter Beyond the Equation of Value," but it's kicking my ass. I wouldn't recommend it unless you're comfortable managing the anxiety of not knowing what the fuck is going on, at least throughout a first read. 
My style/life icons are
I don't have these, but I think I can identify a time and place that feels like what I want my style/lifestyle to resemble, and I would say like mid to late '90s New York City. 
You can usually find me 
At my computer, I'm a workaholic! (I'm healing, but part of this process is being very clear about the matter of the thing.)
Recently I've discovered 
Life changes more profoundly by learning strategies and changing habits than acquiring the perfect object or tool. 
I wish more people knew 
That honesty is very sexy; that their desire is colonized unless they are making, but also often despite, efforts to rework it; that logistical communication is a bare minimum of adulthood, and schedules do not make life any less sexy. Ahhh so many things…I'm literally an essayist, I could write entire books about what I wish more people knew. 
I love sharing 
Everything, tbh. Geminis get a bad rep, but we love sharing. I ordered a surf and turf to my house the other day and then shared it with  my partner, and then I said, "thank you for sharing that with me," and they were confused because I had ordered it…and it was only then that I realized that people usually say that when someone gives them a piece of their stuff, but I was using it to say thank you for taking something of mine, because I was enjoying the shared-ness of it. Like it made it more fun to compare notes and ratings, and co-curate perfect bites with each other. 
The thing I couldn't do without
Celery juice.
I currently can't get enough of
My planner. I love order so much. 
The work of art that changed everything for me is
There's honestly so many, but first batch to come to mind are: "Free, White and 21" by Howardena Pindell; How Not to be Seen: A Fucking Didactic Educational .MOV File (2013) by Hito Steyerl; "Addicted Love" and "Heaven" by BeBe and CeCe Winans; The Janet Jackson "If" music video. 
The best advice I've ever received is 
Trust your gut. I've tried to outsmart and outwork it so many times, but it honestly is NEVER WRONG, even if it takes years for me to realize that. 
The last thing I loved was 
Hmmmm…I have a lot of possessions that are very special to me, but I don't love them. When I was a kid, my dad scraped off my sticker collection and repainted my door (where it had lived), and when I had an absolute fit, which was somewhat justified because I had a signed Luther Vandross backstage pass tour sticker, a proud Lisa Frank collection, and much additional adhesive memorabilia from other special moments in my life, he scoffed and said, "Don't EVER get attached to property." I realize that things come and go. But the possession that is most sentimentally meaningful to me now (that is still in my possession), is my grandmother's horseshoe ring, and the last thing I loved, that I lost, was my 2000 black Audi A4. She was so sexy but soooo finicky, and ultimately kicked the bucket.  
I'm most looking forward to 
Seeing my parents more in the winter months, and traveling with them. 
I'm most turned on by 
Eye contact, playful physical contact, depth of communication, humor, dominance that is also devotional.