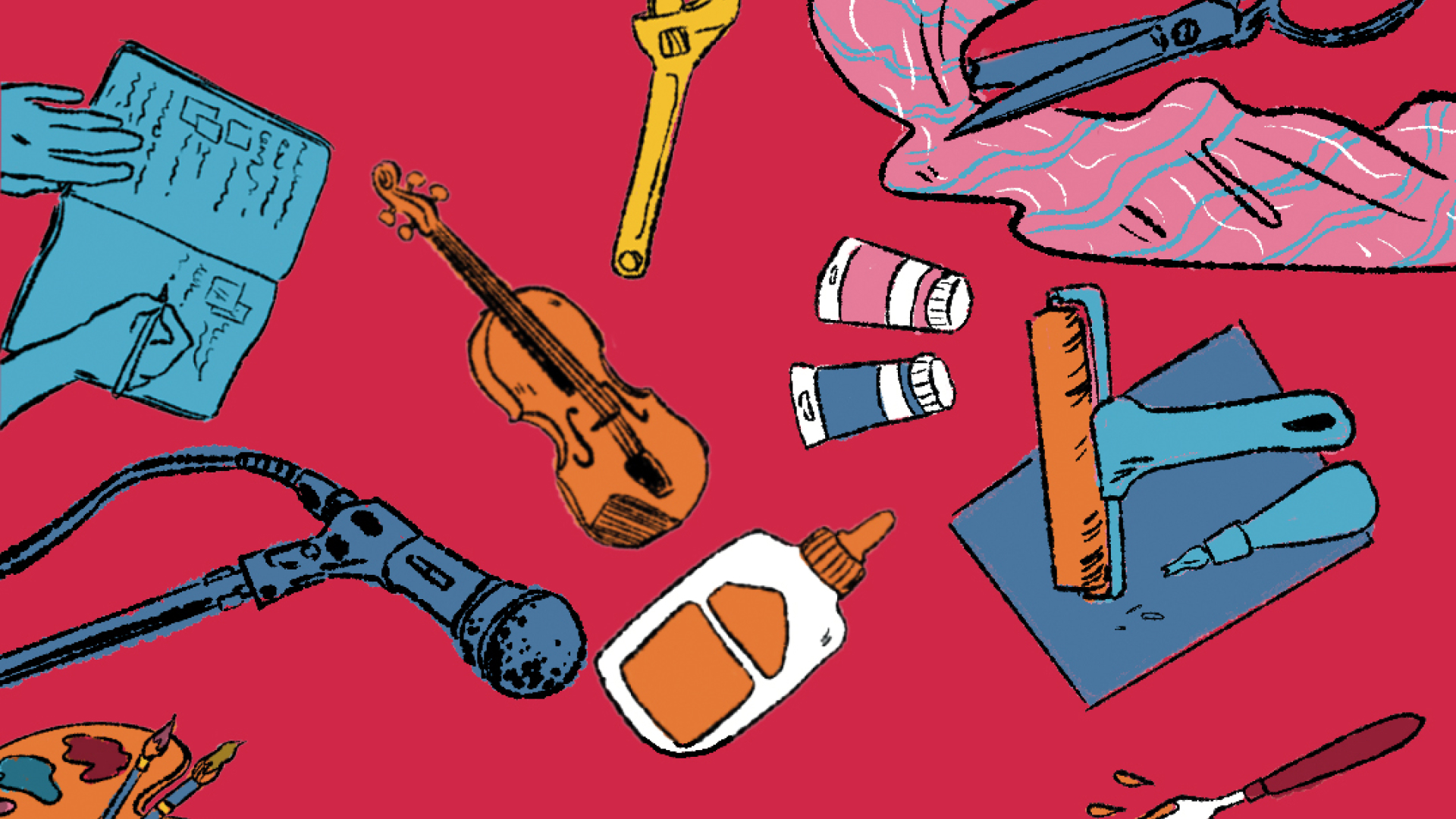 People
Three non-binary artists discuss their artistic practice
May 26th, 2023
Rachel Davies in conversation with Jonathan Lyndon Chase, Tallie Medel, and Zoe Schlacter about creative expression in studios, on stage, and throughout everyday life.
As a non-binary person myself, I'm certainly biased when I say that I find some of the most enlivening artists working today just so happen to be non-binary; and whether it be this time of year, when we have Non-Binary Awareness Week, or just any day of the week, taking time to reflect on the creativity of those of us living outside the gender binary is always going to be a delight.
I spoke with a small selection of non-binary creatives, chosen for their guarantee to inspire artistry in all forms. Jonathan Lyndon Chase is an artist whose depictions of Black queer love have been shown at the LACMA, the Whitney, and the Brooklyn Museum, among other prestigious art institutions. Tallie Medel is an award-winning actor and educator, known for their appearance in Everything Everywhere All At Once and the cult comedy trio Cocoon Central Dance Team. Zoe Schlacter is an interdisciplinary artist and designer whose home goods inspire shoppers to live more playfully. 
These creators envision more expansive worlds and challenge artistic norms in much the same way that they challenge gender norms in their everyday lives. Below, read their thoughts on the joy of creative challenge, the inspiration behind their day-to-day work, and what they look forward to in the future.
Jonathan Lyndon Chase, artist (they/them)
"I find painting to be incredibly freeing and liberating," Jonathan Lyndon Chase says. The experience for viewers of their paintings is similar. In writing about visual art especially, you run the risk of telling someone how to feel when looking at a work, and this feels particularly unwelcomed in the case of Chase's oeuvre, where the fun is in the moment of interpretation. In "lovers in pink bed 2018," for instance, both figures are rendered in the same pink and red tones, their bodies blended together and waiting for you to parse through where one ends and the other begins—their visual world is a pleasurably original one to stumble into. "I realized that I wasn't finding what I desired within the established norms of painting, so I made the decision to take matters into my own hands and create it myself," Chase continues.
Two books of Chase's work have been published by Capricious—wild wild Wild West & Haunting of the Seahorse and Quiet Storm—showcasing the breadth of their creative abilities in painting, photography, and poetry. Both their line work and color choices are energetic and unexpected, beckoning the viewer in, the subject matter undeniably queer: untangling matters of gender identity with a fluidity that couldn't be expressed in words.   
"Art helps me explore my gender identity by providing a space where I can be unapologetic, curious, and delve into various narratives, opening up numerous possibilities. In many ways, it resembles a diary, serving as a haven for secrets, personal reflections, and meditation on both my own life experiences and the world around me," Chase says. "Visually, it enables me to express certain feelings I have about my identity that are difficult to articulate. Through my studio practice, art has assisted me in shaping the identity I embrace today."
Naturally, as their profile has grown, they've become a beacon for other nonbinary artists, or simply people who've viewed their work and discovered more about themselves. In an interview with Bomb Chase stated they get hundreds of messages a day about how their artwork has impacted individuals—an unbelievable amount of pressure, yet also an encouragement to continue creating. Through this, of course, the work must stay personal, but how exactly do you rise to that challenge? "It's important to always have something that you're unsure of or something unexpected entering your radar," reflects Chase. "I think by the nature of being queer, you embrace this idea of entropy or change."
Tallie Medel, award-winning actor and educator (all pronouns) 
Tallie Medel can go from performing as a dancer to taking the stage as a comedian to giving a grounded performance in an indie movie (as in Everything, Everywhere, All At Once, in which they played Becky, Joy's girlfriend) and still pull it off easily. How exactly? "These three practices come from my unending love of people," Medel explains. "'Treat everyone you meet like God in drag.' That's Ram Dass, love that guy. All three need an audience to come to life." 
Their work has grown and morphed over the years, but it's always been derived from the same earnest love and care for their own creative exploration and their audience's entertainment. This care has allowed them to take audiences to some wild, unexpected places, perhaps most notably with their dance comedy trio Cocoon Central Dance Team, which they created with Eleanore Pienta and Sunita Mani ("two of my heroes," Medel says). The group's forty-minute film, Snowy Bing Bongs Across The North Star Combat Zone, is, in the best possible way, almost hallucinogenic in its oddity. In a world of branded content and performing for the highest like count, one  can trust in Medel to create something actually thoughtful and never dour.  
With this in mind, their work as a clown school teacher makes perfect sense. "I started teaching clown virtually during the pandemic. My first experience with the practice in acting school was a zap and I've wanted to learn everything I can since then. Clown is anti-fascist. Jean Taylor says, "The joy is subversive enough." The clown speaks truth to power by existing vulnerably for the public," Medel explains. "My hypothesis about clown's recent popularity (not honk-honk clowns, those roots are circuses' branding for children) is: We are living in a time of profound cognitive dissonance. So many people died during a global pandemic, then we were forced back into a capitalist mode, and shocking violence perpetrated by our government continues at every level. Clown, in its anti-logic, feels to me the logical response. Clown makes way for possibility because we're playing. If nothing matters, we can do anything we want."
Medel is currently anticipating the next performance of their live show, DARLING TALLIE. "I love hosting and comedians and dancing and I love that I can take it with me anywhere and feature local acts. It's coming up July 19 at Our Wicked Lady in Bushwick. You should come."
Zoe Schlacter, interdisciplinary artist and designer (they/them) 
Zoe Schlacter makes abstract and rainbow-infused designs that inject life with a bit of color and loads of energy. In the three years since they founded their eponymous textile and home goods line, extending to collaborations with other studios, like a recent wallpaper collection with Otto Studio, Schlacter has become the go to for dwellers who take both beauty and playfulness as equally serious pursuits.
Though many associate Schlacter with their rugs, blankets, and pillows, Schlacter came into textiles through fashion. "Growing up I was really interested in DIY fashion and spent a lot of my teenage years working to find my personal style. I would cut up hand-me-down or thrifted clothing to make something new and wacky, and I was often making avant-garde accessories out of random little objects I collected. I'm a very pattern-oriented person, and I've always been drawn to bright, bold textures and surfaces," Schlacter tells me by email. 
Though plenty of designers routinely create objects of all kinds, Schlacter feels particularly adept at meeting the requirements and aesthetic joys of each specific type of work they approach, not merely slapping compositions onto forms where they may not even visually work. 
"I love the challenge of a new medium. We interact with different surfaces, especially within interiors, in such different ways, so new mediums often present exciting new design issues to consider," Schlacter says. "I try to accept design challenges and mediums with enthusiasm, because I often learn a lot from them. Each new project, collaborator, art director teaches me something new about myself and my work."
As diverse as the range of clients Schlacter's worked for have been—from big brands like Nike to independent fashion companies like Tyler McGillivary—they still have different sectors to check off their list. "I would love to design a collection of fabrics for crafting, like quilting cottons!" Schlacter explains. "I'm also really interested in designing some pet clothes and accessories." In the meantime, Schlacter's followers on Instagram can enjoy the nexus of their thoughtfully appointed apartment, adorable dog, and admirable fashion sense while nestled under a Peaks and Valleys blanket. 
Archie Bongiovanni is a comic artist and illustrator from Minneapolis. They're the creator of A Quick And Easy Guide To They/Them Pronouns, Grease Bats, History Comics: The Stonewall Riots and their newest graphic novel about four queer BFFs in their mid-thirties as their chosen family implodes, Mimosa. Archie has been featured on Autostraddle, The New Yorker and Vice. You can check out their website but they're more fun on Instagram.